North Justice Center Information
The North Justice Center is located at 1275 N. Berkeley Avenue, Fullerton, California. The general information telephone number is (657)622-5600. The hours of operation are from 8am to 4pm daily, excluding any Fullerton Court holidays. The Fullerton Courthouse handles criminal and traffic cases for the most part, however several courtrooms are designated to small claims. If you have received a traffic ticket, cited & released, posted bail or bail bond from the following cities, then the Fullerton Court is the Orange County Superior Court handling your case: Anaheim, Brea, Buena Park, Cypress, Fullerton, La Habra, La Palma, Placentia, and Yorba Linda.
| | |
| --- | --- |
| GENERAL INFORMATION | (657) 622-5600 |
| CRIMINAL OPERATION | (657) 872-2122 |
| TRAFFIC OPERATIONS | (657) 872-2122 |
| CIVIL & SMALL CLAIMS | (657) 622-5600 |
| TELECOM DEVICE FOR DEAF (TDD) | (714) 441-3586 |
| COURT REPORTER/INTERPRETER SERVICES | (657) 622-6878 OPTION 6 |
| ALCOHOL LIAISON (HEALTH CARE AGENCY) | (714) 834-2325 |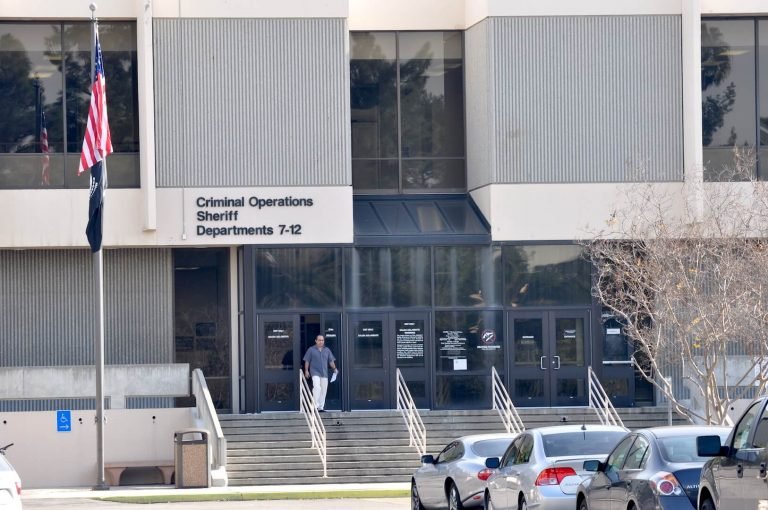 When And Where To Appear At The North Justice Center
The misdemeanor and felony case numbering system in Orange County Superior Courts is rather easy to understand. For example, "14NF1234" is broken down first by the year (14 for 2014), followed by the court of jurisdiction ("N" for North Court or Fullerton Court), the "F" stands for felony case, and it's the 1234 case filed that year. If an "M" was in place of the "F", it would be a misdemeanor case filing and if "N" was replaced with a "W", "C", or "H", the case is located in another courthouse in Orange County. Below are the various courthouses in Orange County:
North Justice Center : NJC, Fullerton Court, Fullerton Courthouse 

West Justice Center: WJC, West Court, Westminster Courthouse

Central Justice Center: CJC, Central Court, Santa Ana Courthouse

Harbor Justice  Center: HJC, Harbor Court, Newport Beach Courthouse
You are required to appear at one of the Orange County Justice Centers' locations as shown on the traffic ticket(citation), release document, bail or  bail bond paperwork, or appearance/arraignment letter from the prosecuting entity. You can confirm or verify the court date or the status of criminal charges by accessing the  criminal court's web access case site or calendar info for defendants in custody and out of custody. Make an online appointment!

On the appearance day, look at the shown calendar (digital boards displayed in courthouse) to confirm the court room department number and time of appearance. If your  case is calendered for that day, go right away to that courtroom. If your pending criminal case isn't shown on the digital calendar board, verify with the criminal division of clerk's office for additional information.  Court appearances are usually set for 8:30AM, thus, it's important in leaving early for your court appearance to avoid any unnecessary delays. Below is a list of court departments at the North Justice Center:
The above mentioned information is checked periodically for its accuracy, however we don't take any responsibility for any changes or possible misinformation provided by the Orange County Superior Court. Feel free to view or download the Fullerton Courthouse floor plan. You may also visit the Orange County Superior Court's website for more information regarding the North Justice Center.
Directions to the North Justice Center
From South Orange County/San Diego: Take the 5 freeway north to the 57 freeway north, exit Chapman Avenue (second Chapman, after 91 fwy). Make a left off freeway till you get to Harbor Boulevard, make right, take Harbor Boulevard to Berkeley Avenue, make a left. Courthouse will be to your left about one hundred yards.
From Riverside/Inland Empire: 91 fwy westbound and exit Lemon. Make right off freeway, drive approximately 2 mile and make left on Berkeley Avenue. Take Berkeley Avenue and pass Harbor Boulevard, courthouse will be to your left.
From Los Angeles Area: 5 fwy south to 91 east, exit Harbor Boulevard, make left. Take Harbor Boulevard to Berkeley Avenue, make left. Court will be to your left. You may also take the 10 fwy or 60 fwy to the 57 south, exit Chapman Avenue, make right off freeway. Make a right on Harbor Boulevard and a left on Berkeley Avenue.