North Justice Center - Superior Court of Orange County
The North Justice Center is located at 1275 North Berkeley Avenue, Fullerton, California 92832. This court is located in Fullerton, California and handles traffic tickets, infractions, misdemeanors, *small claims, and felonies. Thus, it's part of the criminal justice system in Orange County, California.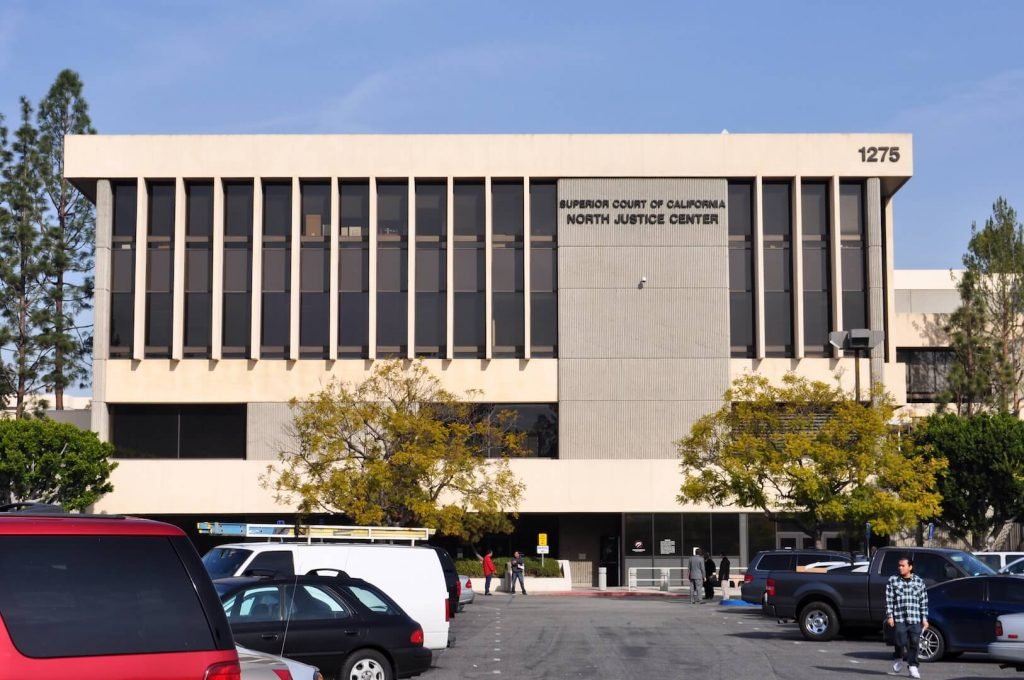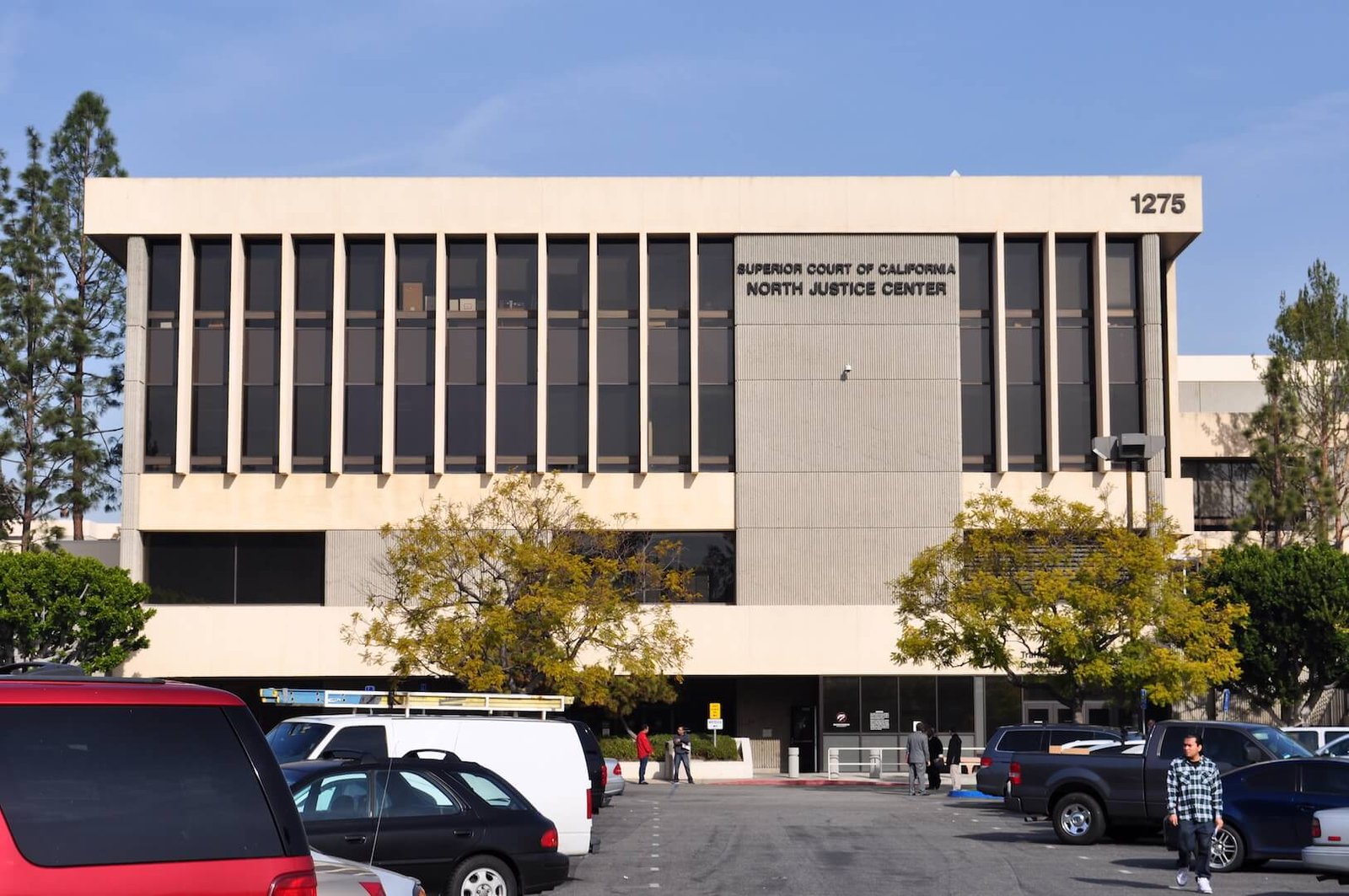 This courthouse handles matters for the cities of  Anaheim, Brea, Buena Park, *Cypress, Fullerton, La Habra, La Palma, *Los Alamitos, Placentia, *Stanton, and Yorba Linda.  You may obtain a list of Fullerton Court telephone numbers for different departments and requests here. Shown below is the bottom floor entrance to the Fullerton Courthouse, third floor access is just to the west (left) of the building.
Bail Bonds Service At The North Justice Center
People appear in the Fullerton court for various reasons, be it an arraignment, pretrial hearing, trial, or to pay a fine. However, many people are unaware or dismiss the possible need of a bail bonds service at the North Justice Center. After all, they are appearing in court as responsible citizens to handle their case.Unfortunately, the court may have other plans for you. For example, you are appearing on your second time DUI you were cited and released  on. Without your knowledge, the North Justice Center tends to set bail between $10,000.00 and $15,000.00 for second time DUI offenders. This put you in a bind really quick, because you are not ready to post bail and have not talked to any bail bonds service previously. Now you are looking at being arrested and sent to the Orange County Jail! Several other issues people run across in court are: warrants, probation violations, failure to appear, etc.. Being prepared  and taking caution is much better than sitting back and looking shocked when the deputy sheriff cuffs you in the courtroom!
It is our recommendation you speak ( 714-872-9198) with our bail bonds service prior to your court appearance. You will receive solid FREE advice from an experienced bail bond company that is located only one block away from the North Justice Center. Time sensitive issues like the one described above must be handled quickly, the court usually won't let you make arrangements for bail once you have been seen. Thus, a few minutes of your time beforehand can save you a big headache in the near future and avoid jail. You must also consider the court hours, lunch breaks, and county jail buses in transit between the jail and the courthouses. For example, if you are detained early in the morning and are placed on the noon bus before bail is posted, you will have to be booked and released from the Orange County Jail. This can take hours, even up to an entire day before you are released.
As a courtesy, our bail bonds company will send our licensed bail agent to the courthouse and wait on standby in case you do need bail, at no extra cost! We do this to give you a peace of mind when appearing in court, without further stress.
What To Do Before You Appear At The North Justice Center
For over twenty years, we have assisted thousands of people with the local courts. We recommend you do the following before you appear in court:
1.  Speak with your criminal defense attorney or your appointed public defender. (or have one appointed to you in court)
2.  Discuss your situation with our bail bonds office, we will help you come to a solution.
3.  Appear in court at least thirty minutes early.
4.  Dress appropriately and be respectfully to the court. Refer to the judge as "your honor".
5.  Don't talk in the courtroom and turn off your mobile phone. Oh, and no chewing gum.
6.  Always wait for paperwork the court may have for you after your appearance.
7.  Don't make any contact with any inmates being held inside the courtroom.
You may also want to take a friend or relative with you to court in you feel you may be detained. This is extremely helpful if you are detained for any reason and your vehicle is left behind. The friend or relative can also make bail arrangements to have you released from the courthouse immediately, without having to be sent to the county jail. Once at the Orange County Jail, the booking and release process may take up to half a day or longer as mentioned previously. Jail buses depart from the courthouse at approximately noon and after the court has closed. All inmates are sent to the county jail to be processed from that day's court appearance, you don't want to be on that bus!! FREE BAIL INFORMATION AT 714-872-9198.
Warrant Search
If you received a letter to appear in court from the DA's Office or City Attorney's Office, there is a very good chance you know the bail amount and charges filed against you. However, many people never receive the appearance letter because they either have moved from their last known address or for some unknown reason never received it. This can be problematic, you don't want a warrant lingering out there while you go about your day. By contacting our bail office, we will conduct a warrant search for you at no cost. If there is any existing warrant(s), at least you will be aware of them and make arrangements to resolve the issue. Did you know? You can have a bail bond posted for the warrant with a future court date, recalling the warrant as if it was never there!!

The benefits of posting the bail bond on the warrant are as follows:
1. Warrant is recalled. (no more warrant in system for  your arrest)
2. Future court date to appear.
3. Make arrangements to be represented by an attorney.
4. Avoid being arrested.
Orange County warrants may be checked with the Orange County Sheriff's Department arrest warrants search. However, never rely on this information alone, there may be reasons beyond our knowledge why a warrant may not be displayed on the website. It's best to contact us for a thorough warrant search  at no additional cost to you. We can search for warrants in multiple counties such as: Los Angeles County, Orange County, Riverside County, San Bernardino County, San Diego County, Ventura County, Santa Barbara County, etc.. Furthermore, we check with various state agencies to obtain accurate information regarding a possible warrant or warrants.
No matter what your situation may be, please give us a call and we will be happy to lead you in the right direction. We do not give legal advice, however, we know the North Justice Center very well, with many years of experience. We will explain to you how bail works, the process in obtaining a bail bond, and the benefits of our Smart Bail™ worry-free service. Call today for a free consultation at 1-714-872-9198.